Wrightian Redux
Washington, D.C.
While the exterior of this home may seem unimposing, the inside boasts a Frank Lloyd Wright-inspired great room with textured walls, grand staircases, and luxurious amenities. This addition and renovation was achieved in a strict 17-month timeline.
---
Team
Architect: Muse Architects
Interior Designer: Lisa Vandenburgh Ltd
Landscape Architect: Lila Fendrick Landscape Architects
Photographer: Alam Karchmer
Recognition
Custom Home, January/February 2009
Remodeling, September 2009
Architectural Record, November 2010
The Washingtonian, June 2010
Home & Design, Sourcebook, 2014
Remodeling Magazine Renaissance Design Awards, 2009
AIA DC Residential Design Awards, 2010
Virginia Society AIA Awards, 2012
AIA Northern Virginia Design Awards, 2013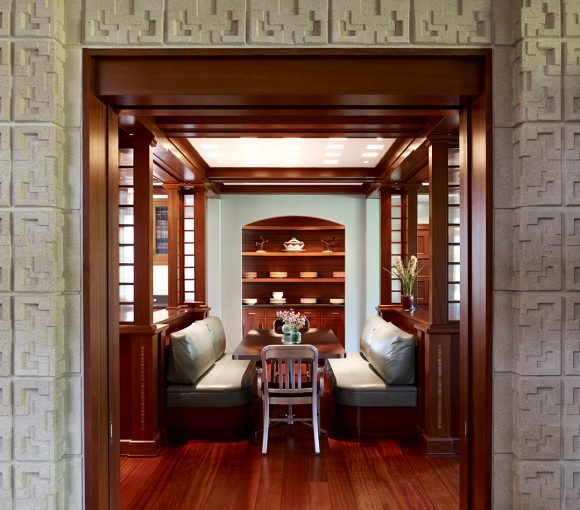 The owner requested to maintain the unimposing nature and style of the original home while expanding the space to meeting their family's needs. To accomplish this, we used a pre-patinated copper roof to preserve the home's weathered identity. Inside, we updated the basement addition with an entertainment area and subterranean squash court. This 35-foot excavation required 600 truckloads of soil removal from the site.
We constructed a modern addition for their family while maintaining the home's unique design.
0
truckloads of soil
0
foot lap pool
0
cast blocks laid by hand
Our team worked overtime to complete a home this family will love forever.
The renovations and improvements didn't stop there. Our team built a movie theater and a large lap pool so the owners can better entertain guests. To brighten the home while remaining efficient, we installed 750 recess lights powered by 50 solar storage batteries.

Because the home had many underground features, our team ensured every inch was protected from unwanted water damage. Our water management systems include internet-connected controls, alarms, and emergency power supplies for all critical drainage pumps.

Our team worked six days a week for almost 14 hours a day to meet our client's needs. In the end, our hard work and precision built a home this family will love forever.
For a private viewing of our portfolio or for more information, please get in touch.
BACK TO TOP